Two of Xi Jinping's chosen officials have disappeared from view, an indication of turmoil in Xi's government, months after he installed a collection of loyalist leaders in his cabinet, observes Dr Rajaram Panda.
Not everything seems to be well in Xi Jinping's government in China.
There have been reports, unsubstantiated may be, about the intense economic inequality in Chinese society.
Information control by the system has prevented the actual situation to be known to the outside world.
The backlash from the outside world as a response to Xi 's aggressive foreign policy has spillover effects on the country's economy, thereby accentuating the social divide as the economic rent has not been evenly distributed among citizens.
Now cracks have surfaced in the political realm, signalling that Xi may be losing control of power.
Purges, elimination and even execution of adversaries are common in any authoritarian system.
Kim Jong Un's governance model in North Korea to perpetuate the dynastic rule is a clear example of this phenomenon.
The sudden change of the country's foreign minister recently and now the defence minister are indicators that not all are well in Xi's governance system.
Defence Minister General Li Shangfu, a veteran of China's military modernisation drive, who rose through the ranks to become defence minister, suddenly went missing on since August 29, within six months of his appointment, and is reportedly being investigated by the Chinese Communist party and stripped of his responsibilities.
Li is the second senior Chinese official to go missing after dismissed foreign minister Qin Gang's disappearance in June.
If Li has been relieved of his command, it would be the latest sign of turmoil in Xi's government, months after he installed a collection of loyalist leaders in his cabinet.
Li's removal from public view follows Xi's abrupt purge in August of two generals leading the country's Rocket Force, which oversees the country's nuclear and land-based missile arsenal, and Qin Gang's still unexplained disappearance.
The Xi government reportedly sought information on alleged graft charges during the military's procurement process dating back to October 2017.
Since Li headed the equipment procurement department from September 2017 to October 2022, it was suspected that Li was involved in some wrong doing.
This is being cited as the reason for his presumed removal as defence minister. Li served as one of China's five state councillors, a cabinet post that ranked higher than a regular minister.
As defence minister, he was less visible than top diplomats who frequently interacted with foreign officials.
If Li is removed, he would be the second state counsellor after Qin to be fired from a ministerial position in three months.
Like in Qin's case ahead of his removal, health was given as the reason for Li's absence when he didn't turn up to meet Vietnamese officials last week.
The fact that Xi talked called for 'a high level of integrity and unity' during a military inspection gives credence that suspected graft charges were behind Li's disappearance.
If one reads three developments in quick succession and joins the dots, it might emerge that the allegations against Li could be serious.
First, Li was not heard for three weeks. Second, he was a no-show for his trip to Vietnam.
Third, he was absent from his scheduled meeting with the naval chief of Singapore.
All these point that Li could even be under house arrest.
Are all these developments pointers that Xi is losing his grip on the military?
Though it may be premature to draw such a conclusion, these expose inadequacies in the People's Liberation Army's personnel promotion and vetting apparatus.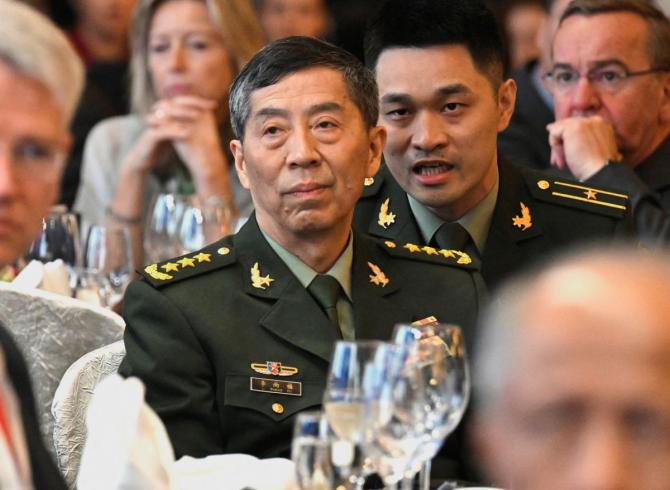 There is another twist to this development. Li's removal has a direct bearing on US-China relations.
Both the US and China maintain open lines of military-to-military communication across multiple levels, including senior-most levels.
Washington had reservation over Li's promotion as defence minister since he has been subject to US sanctions since 2018 in connection with China's purchase of Russian weapons.
China had refused any meeting between Li and his American counterpart as long as US sanctions remained in place.
Beijing believed that the US would drop sanctions against Li if it wanted to resume high-level military communications.
This was a risky dynamic as Washington and Beijing continue to spar over issues ranging from trade to Taiwan.
The US sanctions had prevented a restart in high-level military-to-military contacts, which were halted after then-House speaker Nancy Pelosi visited Taiwan in August 2022.
That visit was followed by a number of massive Chinese military exercises around the island.
This week Taiwan stated that 103 Chinese warplanes flew around Taiwan with a view to intimidate the island.
The Chinese military also holds large-scale military drills around Taiwan, including heavy bombers, infiltrating the island's air defense identification zone and across the so-called median line that separates both sides of the Taiwan Strait.
In June 2023, Beijing had declined a US request for Defense Secretary Lloyd Austin's meeting with Li at the IISS Shangri-La Dialogue in Singapore.
Li and Austin's encounter ended with a handshake.
At the forum, Li had warned that conflict with the US would be an 'unbearable disaster', and China sought dialogue over confrontation.
In mid-August, Li met officials in Russia and Belarus in a show of support for countries diplomatically isolated by the West in the wake of Moscow's military operation in Ukraine.
After Li delivered a keynote address at a security forum with African nations on August 29, he disappeared from public view.
Dr Rajaram Panda is a Senior Fellow at the Nehru Memorial Museum and Library, New Delhi.
Feature Presentation: Aslam Hunani/Rediff.com
Source: Read Full Article