American sprinter Noah Lyles did some serious self-reflection after finishing third in the 200 metres at the Tokyo Olympics – it was his distance and he deserved to win, or so he thought.
Armed with a new mindset, the 26-year-old on Friday stormed to his third consecutive 200m title at the World Championships and, after his victory in the 100m five days earlier, became the first man since Usain Bolt in 2015 to win the sprint double.
"I knew that many guys were coming out here with the idea of taking this from me and, to be honest, they have the ability to and, after what happened in Tokyo, I said I don't believe in 'deserving to win' anymore," Lyles said.
"You take the win. And today I had to take that win again. Just because I won it two years in a row does not mean that it belongs to me."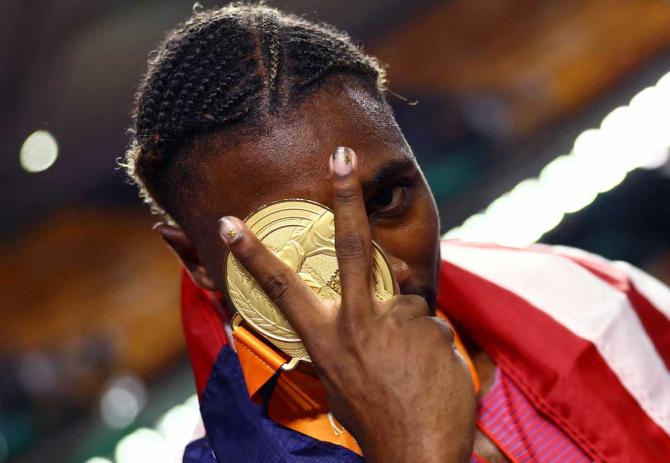 While Lyles had to fight for the lead through the corner, he found another gear coming off it and ran alone over the final 80 metres to win in 19.52 seconds.
His team mate Erriyon Knighton clocked 19.75 for silver, while Letsile Tebogo of Botswana captured the bronze in 19.81.
Lyles made a bold prediction he would run 19.10 in a recent Instagram post, which would have bettered Bolt's world record of 19.19, but his time was not even his best this season, just shy of the 19.47 he ran at the London Diamond League last month.
But he has learned to look at his performances with a more forgiving eye.
"Of course I wanted to be faster, or at least wanted to break the American record again," Lyles said of the 19.31 he ran to break Michael Johnson's U.S. record in winning last year's worlds in Eugene.
"After my sixth race (including heats and semi-finals), and still running 19.5, I can't be sad with that.
"I remember when I won my first World Championships, and I ran 19.8, I couldn't watch that race for months because I felt so disappointed in myself.
"But after years I looked back on that race and (thought), I actually did that. I did it young, it was a great field and it was a hard World Championships. It was the one that started this off. Now I look back at World Championships not for the times, but for what I had to go through to get to the win."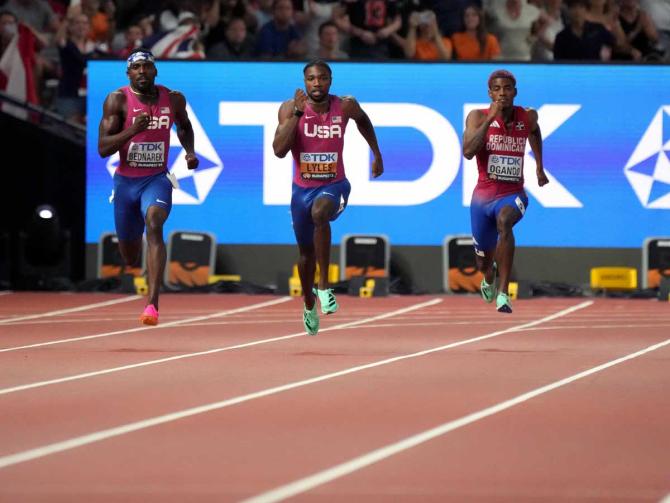 Lyles admitted feeling some pressure before Friday's race. The 100m, traditionally his weaker event, "is fun."
"But it's the 200, this is personal to me," he said. "This is where I stay. This is where I've learned how to race. This is where I've gone against my biggest competitions. This is my third one. So when I said I took this personally, it was very personal."
Lyles, who had his nails manicured with gold stars and a lightning bolt braided into his hair for Budapest, is passionate about bringing more attention to athletics but added "I don't think we've got the three hours to talk about (what needs improving)."
He has often said he wants to transcend athletics and reiterated that on Friday, saying he hoped he could inspire people off the track as well as on it.
"I want people to of course see the fun things I do on the track but then also be able to see me in GQ for my walk-ins and be able to look at my docu-series and be able to get inspiration and say, 'Wow, this isn't just a fast guy, this is a guy who's well-rounded, is a good person and I just want to follow him for that.'"
Lyles can add a third gold medal in the 4×100 relay team on Saturday.
Source: Read Full Article