'Given that they are playing at home and will have full crowd support, India, who are in peak form and whose morale is high, will be the favourites.'
Muthiah Muralitharan's cricketing career was made for the record books.
On March 16, 1997, the wily right-hand off-break bowler became the first Sri Lankan to take 100 Test wickets, scalping Stephen Fleming in the Hamilton Test.
With 67 five-wicket hauls and 22 10 wickets, the legendary spinner was the fastest to reach 300, 400, 500, 600 and 700 Test wickets in terms of matches played, and the only bowler with a record 800 wickets.
His 800th wicket is a story in itself which started with the India-Sri Lanka Test at Galle on July 18, 2010 and Murali still eight wickets short of the magic number.
Four days later, it looked like he would have to end his career with 799 wickets as the last Indian pair at the crease valiantly defied the Sri Lankan bowlers and dark clouds loomed over the stadium with the threat of rain.
The magic happened with the final ball of his last Test.
He deceived Pragyan Ojha and Mahela Jayawardane at slip took a diving catch to give Sri Lanka a 10n wicket victory even as Murali made history.
800, the Murali biopic, opened in theatres last week, the cricket legend tells Rediff.com Senior Contributor Roshmila Bhattacharya, "India is like a second home, even in Sri Lanka, my status is OCI (Overseas Citizen of India) because of my Indian origins."
How does it feel to watch your life's journey come alive on screen?
It's interesting, I'm happy, even though in 2018, when they came to me with the idea of a biopic, I was reluctant.
My manager eventually convinced me to give my consent and today, after five years and innumerable obstacles, the film is finally done.
Hopefully, people will like it.
My wife (Madhimalar Ramamurthy), mother-in-law and son did.
They were in Chennai and the director (M S Sripathy) screened 800 for them.
What memories does your 800th wicket bring back?
After going well past Shane Warne's record of 708 wickets, I had had enough of cricket and on July 7, 2010, I announced my retirement from Test cricket even though I was advised to wait till I had got my 800th wicket.
For me, 800 was just a number.
But with Gautam Gambhir, Virender Sehwag, Sachin Tendulkar, Rahul Dravid, Sourav Ganguly, (V V S) Laxman and (M S) Dhoni, India had the best batting line-up in the world then.
I wanted to challenge myself against this legendary team one last time.
While many urged me to play all three matches for my record, I gave myself just one last chance in the first Test.
If I got my 800th wicket, great. If I didn't, I would just walk away. By God's grace, it was a fairytale finish.
I got my 800th wicket with the last ball of the match.
It was only after I was presented with a T-shirt in Chennai with 800 inscribed on it that I realised the value of the number.
Even the director of my biopic decided to go with the title 800.
(Chuckles) Today 800 means Muralitharan across the world.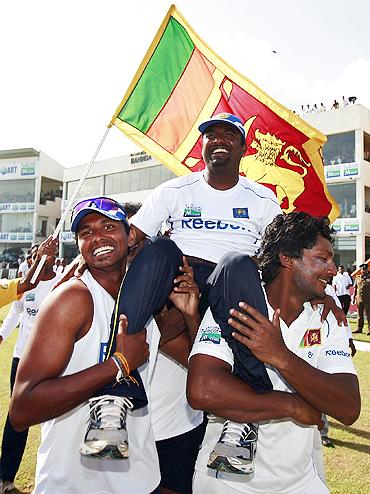 Who, if any, do you see from the current lot breaking this record?
(Jimmy) Anderson has a chance, but he will have to play consistently for three-four years more and age (he is 41) is not in his favour.
I took my 800th wicket in 133 Tests. Anderson has already played 183 Test matches for his 690 wickets haul.
You need to play a lot of matches and today, with fewer Tests being played, it will be difficult to break unless a genius cricketer comes along and smashes the record in 100 matches.
Even if anyone breaks the record, they won't be able to do it in your dramatic fashion.
(Smiles) You will understand the challenge better when you see the climax of my film.
Another historic milestone is helping Sri Lanka lift the World Cup in 1996…
That win means everything to me. Today, I'm here because of it.
Who are you rooting for in this World Cup?
Sri Lanka, of course.
But given that they are playing at home and will have full crowd support, India, who are in peak form and whose morale is high, will be the favourites.
England also has been playing well over the last year-and-a-half and Australia is always a tough team to beat.
Then there's Sri Lanka, Pakistan, New Zealand and South Africa, the dark horses.
To win the World Cup you need lots of luck, just flashback to the final between England and New Zealand in the last World Cup to understand this.
Sri Lanka is known to spring surprises, but just last month, in the Asia Cup finals, they were bundled out for 50 in 15.2 overs before a hugely supportive home crowd in Colombo.
We had a bad day; it can happen with any team.
We can take confidence from the fact that we made it to the final.
In 2000, in the Champions Trophy finals, India, then a strong side, was all out for 54.
I played that match.
In 2010, with 15 wickets in 12 matches, you helped Chennai Super Kings lift its first IPL trophy.
(Smiling) Yes, that win was special too.
I have played for Lancashire too, for seven years, but those first three years of IPL with CSK were a dream come true since my ancestors were from India and my wife is from Chennai.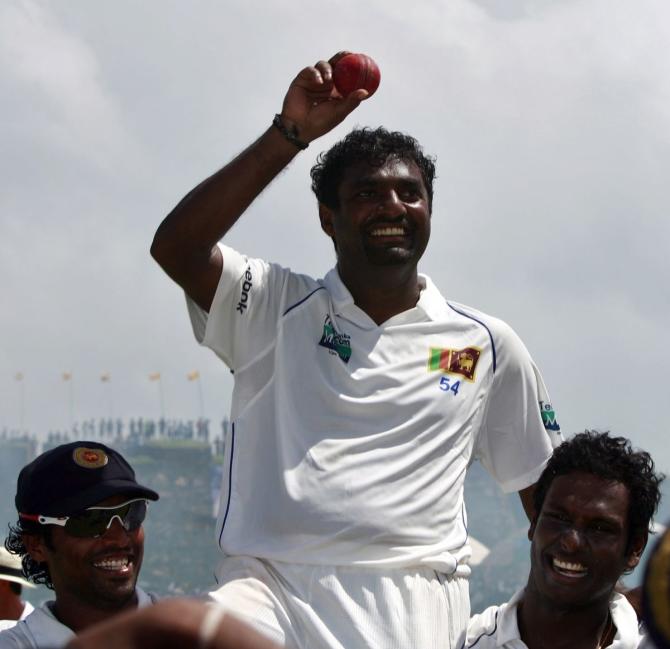 What was it like for you when you played against India or in India?
India is like a second home, even in Sri Lanka, my status is OCI (Overseas Citizen of India) because of my Indian origins.
We may be two separate countries, but our cultures are not very different.
Many, including my ancestors, went to Sri Lanka from India.
According to some legends, even King Vijaya, the first recorded king of Sri Lanka, went there with several hundred followers from Sinhapura, which according to some scholars was in eastern India.
Emperor Ashoka took Buddhism to Sri Lanka from Bodh Gaya.
Even the British took some people from India to work in the tea plantations in Sri Lanka.
So, India has always been like a Big Brother for us.
How much of a role has Arjuna Ranatunga played in your career?
(Emotionally) Without him, I would just be an ordinary person.
Arjuna stood up for me, fought for me. So did my team-mates.
In fact, the whole country supported me despite the fact that I came from a minority community.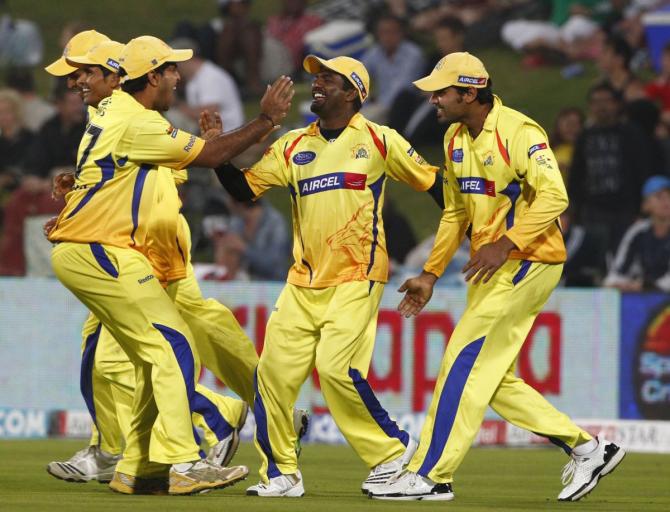 You are obviously referring to the 1995 'chucking' controversy during the Boxing Day Test in Melbourne between Sri Lanka and Australia when umpire Darrell Hair accused you of throwing in front of a crowd of 55,239. At 23, that must have been traumatic?
Did you want to quit cricket at that point?
No, I didn't want to quit, but it was an emotional time. I was in shock, in tears.
But Arjuna (Ranatunga, then the Sri Lankan captain), the other players, the Sri Lanka Cricket Board, the whole country backed me at the time.
At the end of the match, a request was put to the ICC (International Cricket Council) to give us permission to challenge Hair since no one individual can judge another.
Eventually, my action was cleared by the ICC after biomechanical analysis in simulated conditions.
What was your equation like with Hair after you were cleared?
In life, I like to forget and forgive.
During the Edgbaston Test in 2000 which he umpired, I walked up to him in the middle and shook hands, wanting to make him comfortable.
Even when I am in the wrong, I see no harm in saying sorry.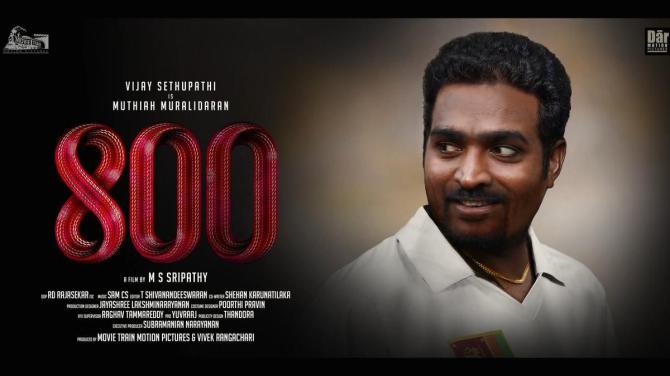 What was it like watching Madhurr Mittal relive all these highs and lows on camera?
Once I gave the rights to my story to the director, I was not involved with the film in any way.
My only condition was that they should not add any masala and having read the script, I was assured it is the unvarnished truth.
Like there is a scene you see even in the trailer where I meet the LTTE (Liberation Tigers of Tamil Tigers).
Since it's a banned organisation, the Censor Board flagged it off till we showed them press articles of my visit to these remote areas to supply food as ambassador of the United Nations World Food Programme to fight hunger amongst school children.
Every little detail in the film can be collaborated with facts.
Have you seen M S Dhoni's biopic?
Oh yes, Dhoni a lovely film and it was a big hit.
I'll be very happy if my film turns out like that.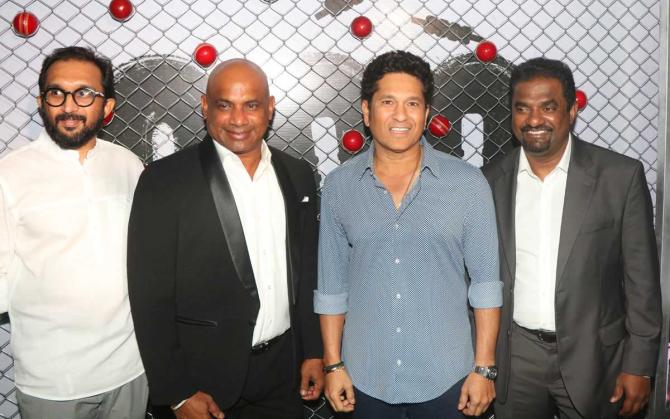 After 800, will you greenlight any other film?
Maybe if someone wanted to make a full-fledged documentary on me, I would give them the rights.
In a film you can only cover so much and 800 ends in 2010.
My stint with Lancashire and the IPL chapter have not been covered.
Pakistani bowler Wasim Akram recently acted in a film. Will we see you in front of the camera someday?
My only talent is playing cricket.
So, I will leave acting to someone else and not embarrass myself.
Talking of cricket, in the ICC's player ranking for Test bowlers, you were No. 1 for a record 1,711 days.
(Surprised) How many days?
1,711 days across 214 Test matches.
Oh, I know some records like the 800 wickets, but some like these I didn't know about since I wasn't recording these records over my 20-year career.
I liked to play cricket, was good at bowling and taking wickets.
I was just doing just that and winning matches for my country.
Which wicket gave you the most satisfaction?
Every wicket was priceless!
Feature Presentation: Aslam Hunani/Rediff.com
Source: Read Full Article