Marileidy Paulino of the Dominican Republic won World Championship gold in the women's 400m on Wednesday, finally claiming top spot on the podium after silvers at last year's worlds and Tokyo Olympics and doing it in record style.
The race was wide open in the absence of injured American Sydney McLaughlin-Levrone, the 400m hurdles world record holder and fastest in the world this year over the flat, and with Olympic and defending world champion Shaunae Miller-Uibo going out in the heats four months after having a baby.
Paulino, second-fastest in the world this year, knew she would never get a better chance to become the first Dominican female world champion and did not waste it.
Dutchwoman Lieke Klaver set the early pace but faded on the final bend and was swallowed up.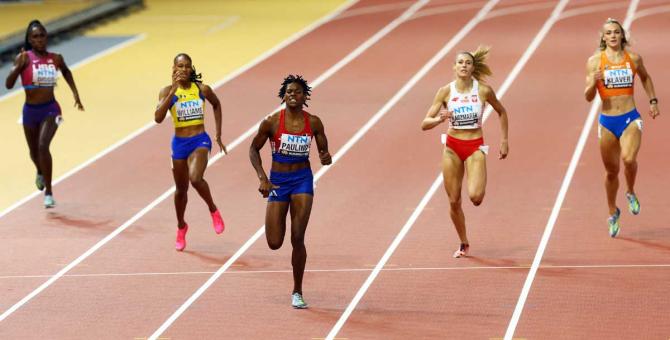 Paulino was out in lane seven and ran a controlled race to surge ahead at the top of the home straight and drive home for an emphatic victory in a national record 48.76 seconds.
Poland's Natalia Kaczmarek finished strongly to take silver in 49.57 followed by Sada Williams of Barbados, who matched her bronze from last year, with 49.60.
"A lot of emotions are rushing through me," Paulino, 26, said.
"This national record means a lot to me. It is really incredible, but I have been preparing for this for a long time, working hard to achieve a goal like this. The gold medal was my dream, and I had the talent to turn this dream into reality."
Kaczmarek said the key to her second-place finish was to concentrate on her own performance.
"This race was crazy, they were so fast out of the blocks," she said.
"My coach had said to me: 'Be careful, keep your pace, run your race'. I did it but it was very painful. This pain after the race is huge, but the joy is better. That is first world championships medal for Poland over 400m. It is still difficult to believe that this silver medal is mine."
Warholm back on top of world 400-hurdles podium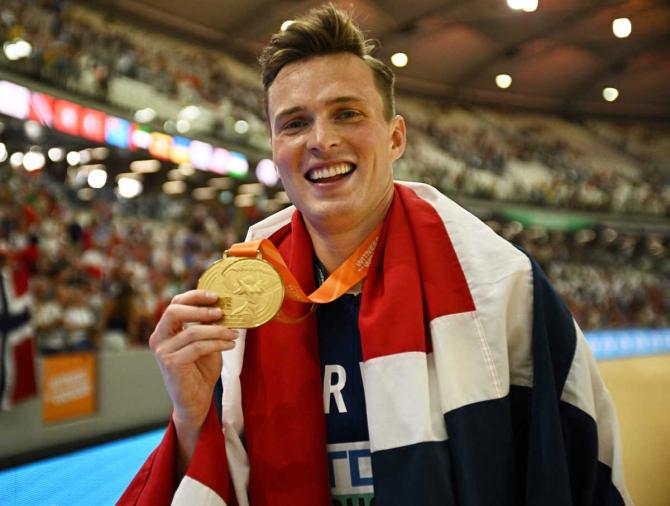 Karsten Warholm of Norway returned to the top of the global medal podium, racing to his third victory in the 400-metres hurdles at the World Athletics Championships on Wednesday.
The world record holder and Olympic champion pulled away from American Rai Benjamin heading into the home straight to win in 46.89, spreading his arms wide in celebration.
The 27-year-old won the 2017 and 2019 world championships, but struggled to seventh at the worlds last season in Eugene when he was hampered by a hamstring injury.
"It feels incredibly good to have the gold around my neck again," Warholm told Norwegian broadcaster NRK. "I fought all I could in the last 100 metres."
Kyron McMaster won silver in 47.34 to earn the first world championships medal for the British Virgin Islands.
"This means the world to my country – I have been chasing this medal since 2017," McMaster said. "For so many years, I have been chasing a medal, but (it is) not the ultimate medal, because that is a gold."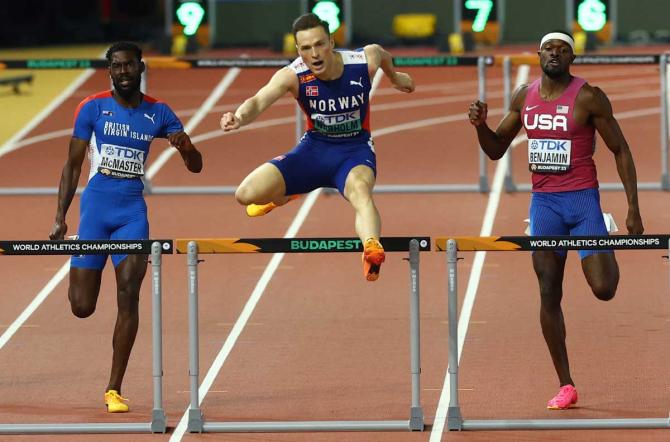 Benjamin, silver medallist both last year in Eugene and at the Tokyo Olympics, faded to take bronze in 47.56.
"I do not know what happened. I am proud of myself but I just wanted more. I want to prove I have it in me," Benjamin said. "It has been a very tough season, dealing with a quadriceps injury, a lot of changes, a lot of distractions. I lost a close friend of mine. It was just tough."
Warholm, running out of Lane 7, and Benjamin, on his inside in Lane 6, hit through the first seven hurdles in perfect synchronization before the Norwegian found another gear.
"I know that there is no one else who can do the first part of the race as fast as I can. And if they do, they will have a hard time at the end," said Warholm, who was given a Viking hat from a Norwegian fan during his victory lap.
"Today, unlike other races I've had, I felt like I was a bit sneaky and was waiting. And then I took it at the end, which people don't think I can do. But I also have it in the toolbox when needed."
Warholm's time of 45.94 in Tokyo obliterated his own world record, but since tearing his hamstring six weeks before last year's worlds, he has had to make a steady climb back to the top.
He has been unbeaten this season and hurdled to a season's best 46.51 at the Monaco Diamond League on July 21, the second fastest time of his career.
Briton Kerr stuns Ingebrigtsen to win 1,500m gold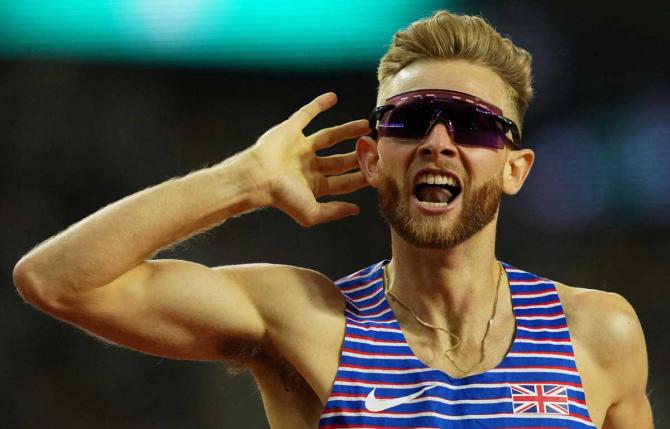 Briton Josh Kerr pulled off one of the shocks of the World Championships when he beat Olympic champion and hot favourite Jakob Ingebrigtsen in an absolute carbon copy of last year's final to take 1,500m gold on Wednesday.
Favourite in 2022, Norway's Ingebrigtsen was outkicked by Britain's Jake Wightman to miss out on gold and Kerr, the Tokyo Olympic bronze medallist behind Ingebrigtsen, made his move at about the same spot with 200 metres to go.
Kerr dug deep to stay in front and won in 3:29.38 with Ingebrigtsen, whose 3:27.14 run in Poland five weeks ago made him the fourth-fastest man in history, taking silver in 3:29.65.
Fast-finishing Norwegian Narve Gilje Nordas secured the bronze in 3:29.68.
"It's been a long time coming. It's quite an overwhelming experience. I'm so proud of myself," said Kerr, who ran the race in sunglasses.
"I didn't feel like I ran the best race either. I just threw my whole 16 years of this sport in that last 200m and didn't give up until the end.
Kerr said he had planned meticulously for this race.
"We threw everything we had at this in terms of nutrition, sleep, training, race reviews, everything," he said. "We left no stone unturned and if it wasn't a gold medal today, that was the best we could have done. I planned like a champion."
Kerr had a good view of Wightman's tactics in Eugene as he chased him home to finish fifth and he produced an almost uncanny replica of his Edinburgh club mate on Wednesday.
"As I came round the bend I thought I have to give everything I have. I just made sure I was there with 200m to go," he said. "Then in the last 30 I thought 'I want this so badly, I don't care how much pain I'm in I'm going to do everything to get to the finish line first'."
Ingebrigtsen said he was not physically in great shape as he was unable to respond to Kerr moving onto his shoulder.
"All credit to Josh, he had a good race, but I feel a little bit unlucky not being able to do what I have been doing the whole season," he said.
"I was a little bit dry in my throat, it got worse last two days. I don't feel my body was quite 100%.
"I won't blame it on anything, but last year I was by far the best, but did a worse race. Today I wasn't the best. I'm disappointed, but not when others do things right and are as prepared as they are. I don't feel like I could have done much differently."
Last year Ingebrigtsen recovered from the setback in his favourite event to win the 5,000m gold and he confirmed that he will defend his title on Sunday, the last night of the championships.
Source: Read Full Article