'He killed so many people, doing the kind of horrible things he did, and yet, he believed he was making the right choices.'
In 2016, a young Tamil film-maker named Selvamani Selvaraj made his debut film Nila, a beautifully shot romantic tale of a man and a woman rekindling their childhood romance. With Sruthi Hariharan in the lead, Nila won the audience award at the prestigious Cinequest San Jose Film Festival.
Now, Selva, 34 is back with a much more ambitious project: A four-part Netflix series, The Hunt for Veerappan.
It is a riveting documentary full of intrigue, suspense, thrills and heart.
Many would have heard about Veerappan, the elephant poacher and sandalwood smuggler, but few know the full story as this series narrates.
Selva's story, narrated from several perspectives, including a powerful testimony of Veerappan's wife Muthulakshmi. It gives a well-rounded image of a man who was considered one of modern India's worst criminals.
Selva chats with Rediff.com Senior Contributor Aseem Chhabra over the phone, and says, "He was a bad guy, no doubt, but when you understand the intentions behind the actions, where he came from, and some of the actions by the cops, it gets muddled up."
Selva, congratulations for an excellent show. It is so gripping and disturbing. I was very impressed with the level of research. Can you tell us what the research meant for you?
This came out of pure commitment. It was my love for the storytellers and for stories. I felt like this was one of the best stories I could share.
I felt I needed to be a student, just trying to understand the man, the circumstances and the many facets to his life.
In fact, throughout the research and the filming, editing process, I kept learning so much about what makes us human and what makes us all together as part a society.
As somebody who was so interested in politics, this was a feast for me. This is politics at the grass root level.
The whole idea of an outlaw.
Why does somebody have to step out of the law?
And an examination of his self-righteousness? He killed so many people, doing the kind of horrible things he did, and yet, he believed he was making the right choices.
It's a great study on human behavior and the relationship between the man and the system.
From a fictional piece — your lovely first film Nila — you moved to nonfiction in a documentary series format. That's a big jump in terms of form. How did that transition happen?
My initial idea was to work on a fictional series on Veerappan on the scale of Narcos. A man who does not want to get caught, goes hiding in the jungle and it's challenging.
What happened to him?
The fact that it's set in a forest and it is a real story where such unbelievable things were happening.
I pitched the show to Netflix.
Aloke Devichand, a Netflix executive who was in Singapore at that time, convinced me that I was the right person to make it as a documentary series.
At that point, the show Wild Wild Country had been released and Aloke thought that the Veerappan story was perfect nonfiction for cerebral consumption and for a thrilling viewing.
It could be a strong piece coming out from India, could really open up the nonfiction space in India.
As I started meeting people who were involved in the Veerappan story, I realised this will really shine as a nonfiction piece.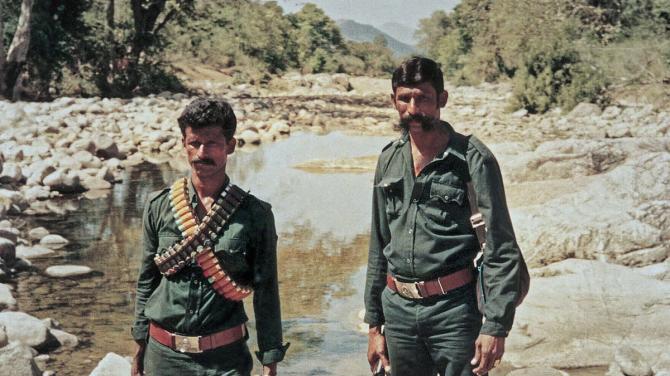 For a project like this to succeed, you can do a lot of research. It must have been a challenge to get the key players. Was it easy to get the cops?
Actually, everybody was tough because of the nature of the story, the narratives that were very conflicting.
You have the cops' version.
You have the gang's version.
If I was watching the interviews of Veerappan, those would tell me a different perspective.
We wanted people to come and talk to each other even if they were not in the same room. It was never a straight narrative.
The story of Veerappan from different points of views had never come together in one piece. And I wanted the audience to make the judgment.
The strongest part of your narrative is Veerappan's wife Muthulakshmi. How did you reach her?
That was very difficult because she had not told the story before. This is an exclusive account.
She realised that she had gone through so much in life, she wanted to tell her story on the biggest stage.
We knew she cared for the representation of her husband a lot more than anybody else in the story.
She might not be educated in the conventional sense, but she knows so much about survival, politics and the way the legal system works.
She knows how to protect her own rights.
Also, as we were meeting people, it became clear that there was so much masculinity in the story, starting with Veerappan's mustache. When we met her, we realised we needed to hear her voice.
So she became that important piece, that subset of survivors including Anburaj, the youngest member of Veerappan's gang. The closest access I got to Veerappan's voice was through these two and a few other of his gang members.
I went to interview Muthulakshmi to get the Veerappan story, but I realised that her story was just as important.
I spoke to her after I had interviewed other characters and she was impressed with how much I knew.
I have to thank my producer Monisha Thyagarajan who made so many trips with me, and convinced Muthulakshmi that her story needs to be told and through us.
There was a whole trust building exercise that was key with all the people who have been incarcerated. And trust building takes time.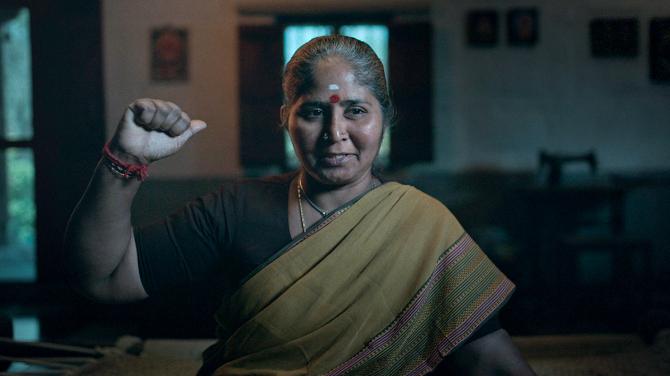 At the same time, she knew you were going to talk to the cops, and look at all the news coverage and everything else.
We did not hide anything from anybody.
We always told them what we were looking for, what everybody else was telling us.
Beyond a point, they knew that in narrating the story, we and the audience would piece the story together.
How much time did you spend with Muthulakshmi?
We spent about 50 hours.
Her life was extremely interesting and dramatic, like when she was eight months pregnant and running away from the cops.
You don't want to stop somebody when they are sharing such details.
I was worried how she would be in front of camera, but slowly, I realised that she had gone through such extreme emotions that if I was able to just push her into that place of memory, then narrating her story would become natural and interesting.
Her story is so gripping, and she is very charming and pretty. There was something about her eyes. While every so often she gets a smile, there are moments when she starts to cry. She really touches your heart.
How many years did you spend collecting information, interviewing people, researching and filming before you sat down to edit the film?
I took us a little over two years.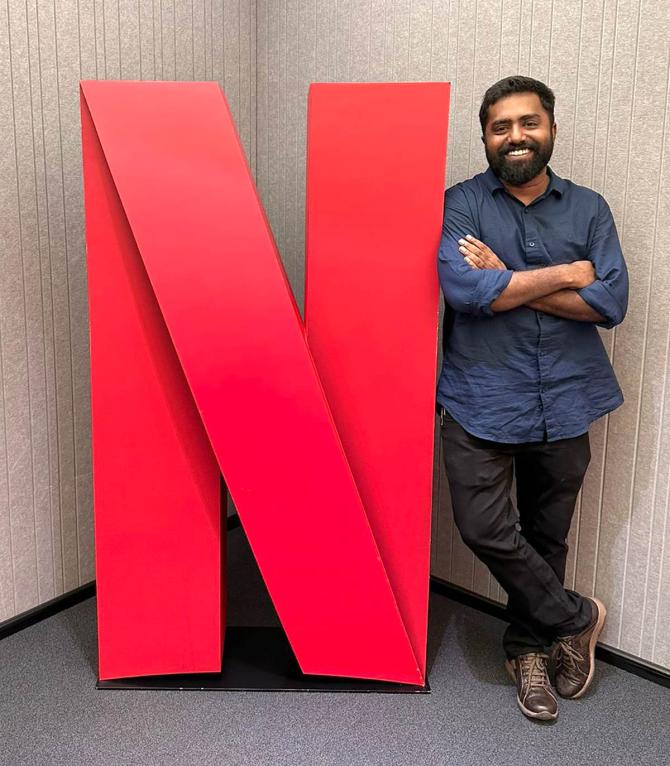 So it was during the pandemic.
That was a tricky one. It did happen during a pandemic.
I had done my research before, but the pandemic hit when the show was commissioned, so we were waiting. We shot in between the first and second waves.
When we sat for the edit, it was very clear that we had enough material for about 10 episodes. There were difficult editing decisions.
My hope was to see if it could become a five-part series, but Netflix was very clear on a four-part project.
The challenge was to weave a story that would speak not just to the informed, but also to the uninformed, people who were hearing Veerappan's name for the first time.
I had an executive producer Kimberly Hassett (co-producer, Bikram: Yogi, Guru, Predator) from Los Angeles.
If I was telling a story to an international audience, I needed guidance.
I was close to the story, having grown up hearing Veerappan's name.
Kimberly would inform me what was interesting for a nonfiction series that could travel.
She put together an edit team in LA. Our edit team would work in India, but we would be supervised by the LA team.
When you are working on such a dark subject, especially when you hear the cops talk about the killings and the blood, didn't you get nightmares? You were living, breathing this story every day for a long while.
Strangely, Veerappan came in my dream only once.
Of course, the story affected me, but I also knew I had the responsibility to be fair and balanced.
I knew I had to stay on this course for a long time.
It was not just like a character piece we were working on.
We also had to cover the politics of the time, so that kept us motivated.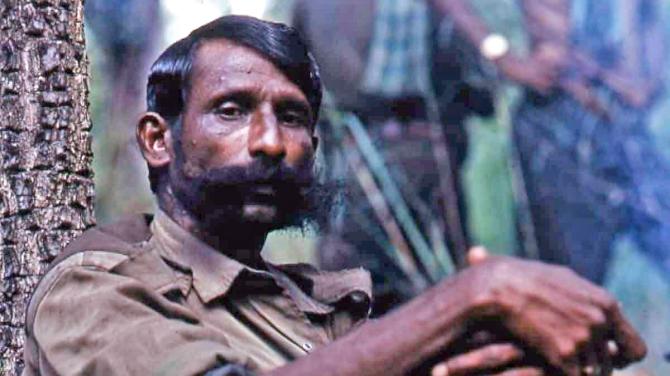 One of the things that surprised me was that after I had seen the series, I understood what a monster Veerappan was, but still, I was sad in the end, the way he was tricked and killed. I wondered why I was feeling sad, but I think it had to do with the way you took us through this journey.
When you travel with the story, you realise it's not that simple.
He was a bad guy, no doubt, but when you understand the intentions behind the actions, where he came from, and some of the actions by the cops, it gets muddled up.
With all the conversation and interviews, especially with his wife, you get this real image of three-dimensional human being who is not just a bad villain like in films we watch.
He had dreams of living with his two daughters, his family to be reunited.
Yes, you gave us a human face to an evil man. How do you feel now? What have these last few weeks been like?
It's hectic because I am about to shoot my next feature film.
I thought people would like the show, and I expected there would be a debate.
I had not anticipated this unanimous love for the series.
I am happy that my family has taken this well.
Earlier, they would ask, why are you struggling? Why aren't you sleeping? Why are you at home all the time? Or you are always traveling, always on calls.
I think now they understand the work I was doing.
The Veerappan Saga Ends
The Abduction of Dr Rajakumar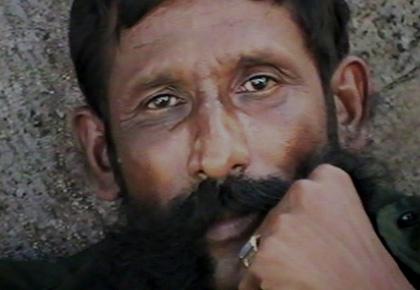 Source: Read Full Article