Was descending into the telling of only Diana's tale in four long, slightly-draggy soap-opera-ish episodes of the last season the original premise of The Crown? asks Vaihayasi Pande Daniel.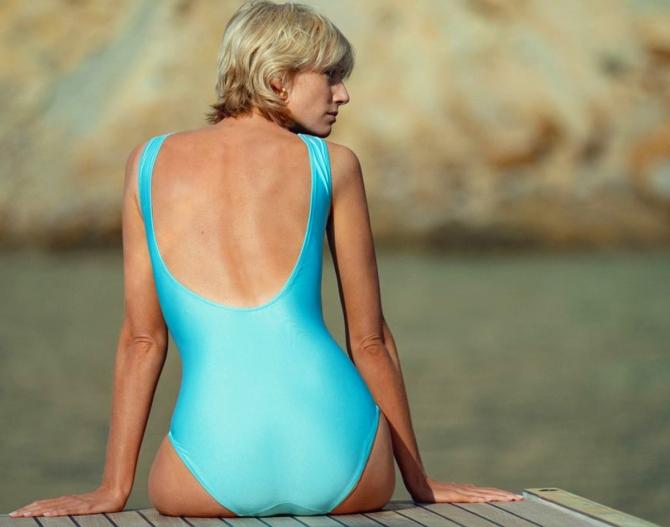 It has wandered away from history into a forest of cliches, spectacle and predictability.
The first four episodes of Netflix's The Crown, from its final Season 6, seem to be more on a tabloid-ish spin-off series path, titled Cry For Di, than part of the original much-admired historical drama masterpiece.
While presented by creator and writer Peter Morgan, as always, beautifully and movingly, probably bringing many a viewer to tears, including this one, the camera dwelled tiresomely long on just Diana, the princess who lost her crown. And the real crown was a bit player in these episodes.
No doubt Diana's story, even 26 years after her violent tragic death, is as dramatic and racy a tear jerker as it was the day she died and London was drowned in bouquets in her memory.
The saga of a fragile, unprotected divorced woman, wronged by her ex-husband and in laws, is as old as it is true and compelling, and therefore makes excellent film material always. Riveting stuff. You obviously cannot look away.
But was descending into the telling of only Diana's tale in four long, slightly-draggy soap-opera-ish episodes of the last season the original premise of The Crown?
I rather thought it was more about history than melodrama. About depth, subtlety and fascinating layers that got unpeeled, than shallowness. And about revealing the unseen, peculiar sides to the workings of The Windsor Firm and the fascinating, hidden quirks of the full cast of personalities who make up the British royals, while at the same time revealing intriguing bits of Britain's history that some of us might not have been aware of.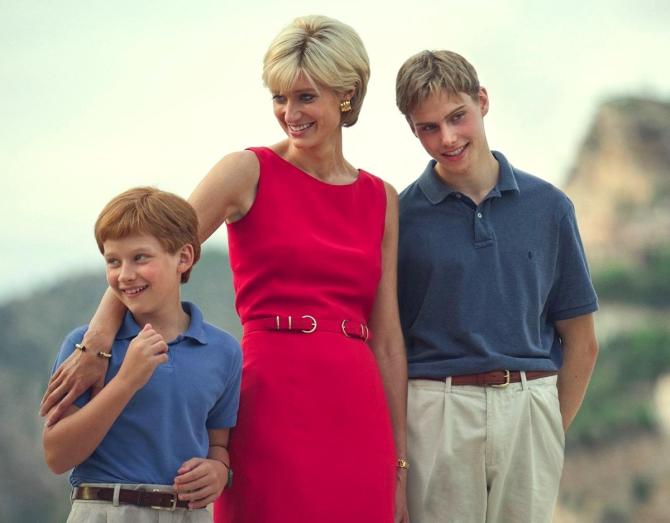 What I saw in Episodes 1-4 of Season 6, I could have read as a sensationalist 18-point-size account in the Mirror.
There was not much there that was not covered in the considerably classier Helen Mirren-starring The Queen. And for those of us who are drawn to Diana's life-story, there is almost nothing in these episodes we did not know.
So, the four episodes of season 6 did not present us with any new thought-provoking material about the House of Windsor to chew on. Rather it muddled things up a bit.
Then let's go to the excessive, Bollywood-style mawkish histrionics that surfaced in several places in this final season of The Crown.
Like the pert ghost of Di popping up — even if it was meant to be a creature of the imagination or a guilty conscience — in several places to muse/counsel her feisty former mother-in-law and ex-husband. Yikes. No, Pete.
So much of it was unbelievable — ghosts apart — like the way the characters reacted to Diana's death.
I have no facts to go on, but did sensible lad William actually disappear for 14 hours in the wilderness of the Scottish highlands? And could cool customer Charles have been that heartbroken at his ex-wife's death, breaking down and sobbing wildly at points? And was it really, he who persuaded his regal mother for a state funeral for Di and more public and appropriate expressions of mourning by the royal family — a much-needed, one-time departure from the unbendable upper lip tradition?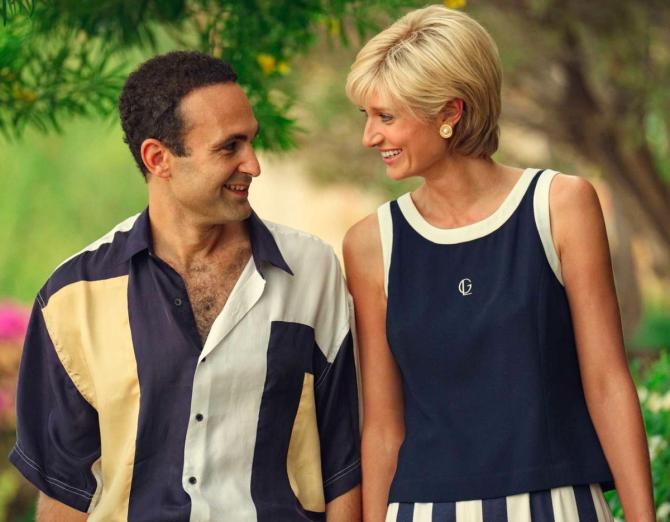 What these episodes of Season 6 did achieve was showing how awkward, slightly inane and strange the relationship had to have been between Diana and Egypt-born, Switzerland and Britain-educated film-maker Dodi Fayed.
The series very clearly establishes what a mistake it might have been had Diana lived and ended up marrying the heir of Harrods-Hotel Ritz Paris-owning billionaire.
It also chooses to offer Diana the higher ground in suggesting that she realised there was no future in it and refused Dodi's apparent proposal of marriage hardly a few days into the somewhat bizarre partnership.
The Crown Season 6, like all its previous seasons, once again, showcases outstanding acting, down to even the two youngsters who play the little princelings.
Imelda Staunton has more royal hauteur than probably Queen Elizabeth II possessed in real life.
Dominic West does a brave job essaying a conflicted, sometimes diffident, tortured Prince Charles now Charles III.
Elizabeth Debicki is simply marvellous, charmingly portraying, with big, endearing doe eyes, the chic, always elegant but lost and recklessly adrift Princess of People's Hearts.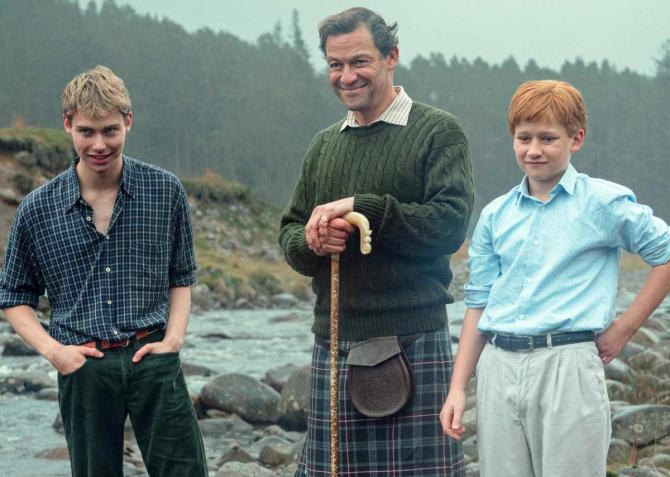 Brilliant too is Salim Daw man, who plays Mohammed Al-Fayed, Dodi's overbearing dad.
So good was Daw, it felt like Al-Fayed might have been playing himself in the series, if we didn't know he died in August this year, without seeing this bunch of episodes of The Crown, that were not exactly charitable towards the Fayeds — Dodi especially got a weak, vapid, little boy treatment.
The sets, locales and music are magnificent as usual. Music flipped back and forth between Julio Iglesias, George Michael, Chumbawumba and other 'nineties bangers', as a British tabloid termed it, and haunting fare by a chamber orchestra.
Locales: Wild, misty Scotland. The sparkling picture-perfect French Riviera (apparently these scenes were shot in Mallorca, Spain, also on the Mediterranean and superbly pretty they were). Sumptuous Lancaster House, Belvoir Castle (also Burghley House) and Rhinefield House that stood in for Buckingham Palace, Windsor Castle and Balmoral respectively.
There a few witty, memorable lines. Like how someone says Queen Elizabeth II sets the standard for Britishness. Or like when Diana talks about landmines with Dodi: 'He (Ken Rutherford who began Landmine Survivors Network) said to me every survivor has a date of the day they stepped on the landmine.
He said, 'Mine was December 16, 1963'. I said, 'Mine was 29 July, 1981 — my wedding day'. Or when Prince Charles cuttingly insistd Diana's body must be brought back from Paris after the tragic accident in August 1997 at Point de l'Alma underpass on the Seine in Paris, like she was still a royal and the mother of a future king or else did they want it to return in a 'Harrods van'.
The Crown did Diana proud in the portrayal of her best side.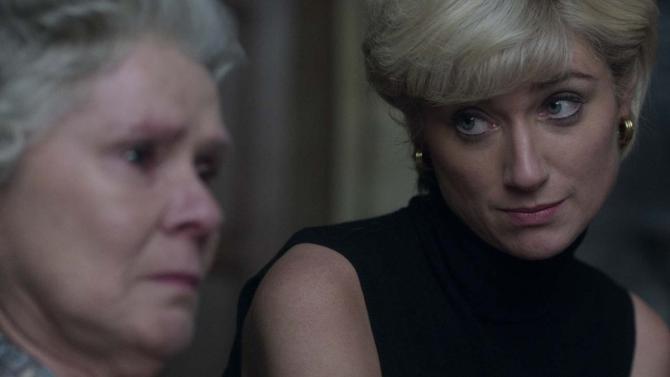 In the final analysis, the series seems to deliver a fairly accurate notion of Diana the Mom. She might have been no good at 'wifery' and adept at hysteria, but her greatest strength was her warm mothering ability, whether it was for her little boys or anyone in need, be they lepers, landmine victims or the lonely.
Effectively the series too establishes part of her legacy, which was ultimately humanising the Windsors.
Some of Di has rubbed off onto Charles in a lasting way.
In the manner he brought up his sons after her death, the sweet, cute role he played in Meghan and Harry's wedding and his less distant relationship with the people of the United Kingdom.
The Crown streams on Netflix.

Feature Presentation: Rajesh Alva/Rediff.com
Source: Read Full Article